Welcome to ICrA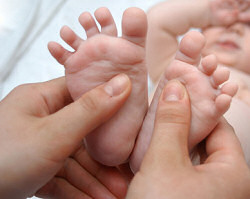 ICrA is a not-for-profit special interest group for health professionals who include cranial therapy in their practice.
ICrA exists to provide CPD and to support, maintain and develop the practice of cranial therapy.
ICrA members include osteopaths, chiropractors, physiotherapists and other health care professionals. We welcome all practitioners and students with an interest in cranial, cranio-sacral therapy or cranial osteopathy.
ICrA is international with contacts in Belgium, Greece and France. We have links to several colleges in the UK, including College of Osteopaths and European School of Osteopathy.
Autumn Study Day - 6th October 2018
Our Autumn Study Day will take place on the 6th October 2018.
The course presenter is Viola Sampson BSc RCST BCST
"The overlooked organ: the human microbiome"
Astonishing new discoveries about the communities of microscopic life, found deep within and throughout the human body, have huge ramifications for practitioners in conventional and complementary medicine alike. Disruptions in the human microbiome are now implicated in a multitude of conditions - from digestive disorders to autism, from inflammatory and autoimmune diseases, to cancers and even mental health.
This ground-breaking research is transforming the very basis of our understanding of health and disease. Yet just as its huge significance is dawning on us, we are realising the microbiome is becoming dangerously degraded due to poor understanding, standard medical practices, diet and lifestyle choices. It's time to expand our perceptual fields and relate to the human individual as part of a vast, invisible ecological system - continuous with soil, sea and air.
On this study day, we will explore the scale and significance of microscopic life in human health and the overlooked roles of gut microbes in particular. We will look at how birth and how the first years of life affect the microbiome and therefore lifelong health. A practical session will focus on the microbiome-gut-brain axis - including how bacteria shape our moods and behaviours.
Viola Sampson BSc RCST BCST: As a craniosacral therapist with a special interest in gut health, Viola is passionate about this exciting, emerging field, and committed to offering engaging and accessible course content to complementary therapists, while maintaining a strong foundation in medical research. She draws on her background as a research scientist working with bacteria in laboratory settings, as well as her practical workshops on making richly probiotic foods to replenish the microbiome.
Registration 09:30 for 10.00 to 17.00. Venue is Room L5 in British College of Osteopathic Medicine, Lief House, 3 Sumpter Close, Finchley Road, London NW3 5HR. 6 hours CPD Certificated, open to all practitioners
LUNCH PROVIDED
Course fee: £80 for ICRA members; £55 for students; £105 for non-members
Telephone: 07929 731862, or book this event online as:
Member Non-Member Student
ICrA Update: Study Day 28th April 2018
Thank you Brian and Zara for a very enjoyable and insightful day.
Zara Van Herbert D.O.
Zara's study day programme was on "osteopathy's unique contribution to health"
Brian Isbell BSc, PGCE, PhD, D.O, MBiol.
Brian's presentation on "Fascia - does this tissue provide insight into mechanisms in cranial and musculoskeletal therapies."
Thank you to all who attended.
ICrA is now working with CNHC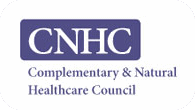 The Complementary and Natural Healthcare Council (CNHC)
CNHC is the UK voluntary regulator for complementary healthcare practitioners that was set up with government support to protect the public by providing a UK voluntary register of complementary therapists. CNHC's register has been approved as an Accredited Register by the Professional Standards Authority for Health and Social Care. This means CNHC has met the Professional Standards Authority's demanding standards. All CNHC registered practitioners are entitled to use CNHC's quality mark which demonstrates a commitment to professionalism and high standards. The public and those who commission the services of complementary healthcare practitioners can choose with confidence, by looking for the CNHC quality mark.
CNHC Registration
CNHC has agreed that ICrA may verify applications for CNHC registration and we encourage members to register in order to gain the CNHC quality mark. The criteria for entry to the register can be downloaded from CNHC web site. Members wishing to register should download a Request to Register Form, to be completed and returned to ICrA by post or email. We will then request further details from you in order to check your eligibility for registration.
To find out more about the CNHC, you may email info@cnhc.org.uk, call 020 3668 0406, or visit www.cnhc.org.uk.
Don't forget to check your advertising complies with ASA guidance
You are strongly advised to ensure that your practice advertising complies with ASA/CAP guidance. For useful advice see the guidance sheet which can be downloaded from the CNHC web site.
ICrA Facebook Page
Our Facebook page is now live. If you have a Facebook account, please 'Like' us to see news and events information in your news feed.